WAIS Divide, Season Two
THE PHOTOGRAPH TO THE RIGHT is the tip of a 4.8-inch diameter core of ancient, frozen snow dating back 7,700 years ago – roughly around the time Sumerians of Mesopotamia were developing irrigation systems for agriculture. Trapped in and between the ice crystals are pockets of air and chemicals that circulated the globe at the time and can now be analyzed by scientists for clues of Earth's past climate.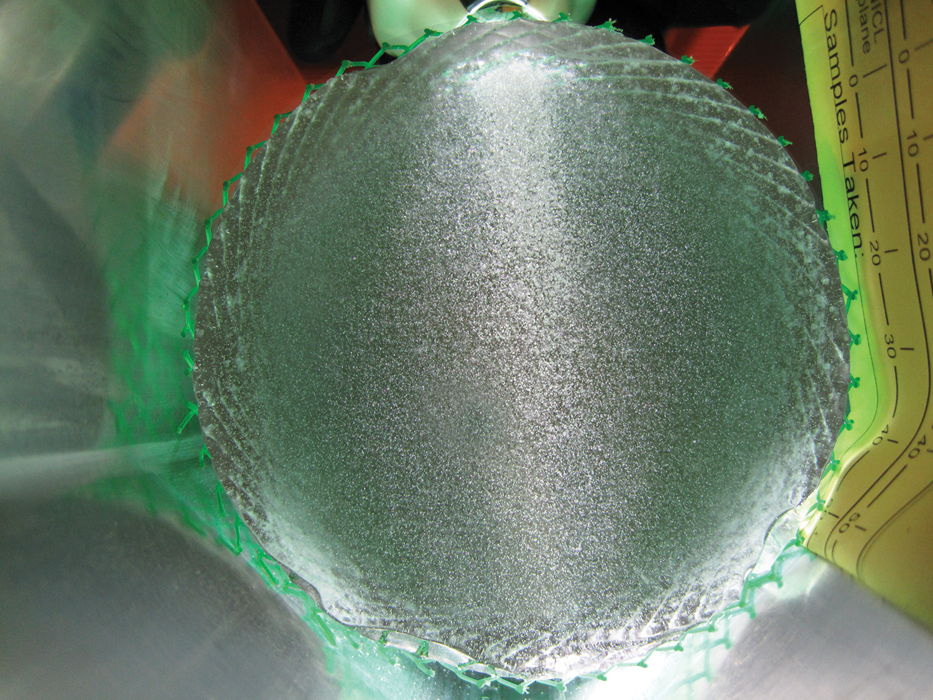 Photo by Logan Mitchell, Oregon State University
The shaft of ice was pulled up from a depth nearly a mile (4,960 feet) below the surface of the Western Antarctic Ice Sheet. It is the end result of around-the-clock drilling operations that began December 22, 2008 and ended late in the polar evening on January 22, 2009, drawing to a close the second season of the National Science Foundation's West Antarctic Ice Sheet Divide Ice Core Project.
The WAIS Divide project is an unprecedented, multi-year effort to retrieve the most detailed record of greenhouse gases in Earth's atmosphere over the last 100,000 years, including a yearly record of the last 40,000 years.
"The success of this year's field season, even after a delayed start, was in part due to the science technicians hired by UNH," says Mark Twickler, manager of the WAIS Divide Science Coordination Office within EOS. He adds, "We hope to reach the 40,000-year-old depth next year."
by David Sims, Science Writer, Institute for the Study of Earth, Oceans, and Space. Published in Winter 2009 issue of EOS
.